Just enter your first name and primary email address in the box below, tell me where you learned about this offer, and then click the 'FREE Download' button.

Australian Games Expert Reveals The
Ten EASIEST & MOST SUCCESSFUL Ice-Breakers
& Getting-To-Know-You Games - FREE!
© Mark Collard All rights reserved.
By subscribing, you will be protected by my privacy policy found here.

Your information is kept 100% totally confidential.
I will NOT rent, trade, or release your name to any third party for any reason - ever! I respect YOUR email privacy and hate spam with a passion.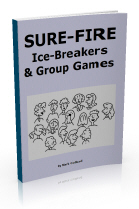 "I've been using these activities for more than 24 years,
and I GUARANTEE that they will have your group laughing,
interacting and eating out of your hands in no time..."

- Mark Collard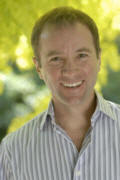 When you sign-up to receive my
FREE
thirty-two page ebook ...

'SURE FIRE Ice-Breakers & Group Games'
... this is what you'll discover:
How to present TEN of THE MOST SUCCESSFUL ice-breaker,
getting-to-know-you, and interactive group activities that I know,
each with fun illustrations;
Everyone will LOVE these activities - kids and adults, school,
community and corporate groups. They require no equipment at
all, and can be used with any size group;
The SEVEN SECRET TRICKS you can employ that will immediately
help your group to feel at ease, and make you look like an expert;
Why most ice-breakers and group games fail, and what you can do
to avoid this happening to your program.